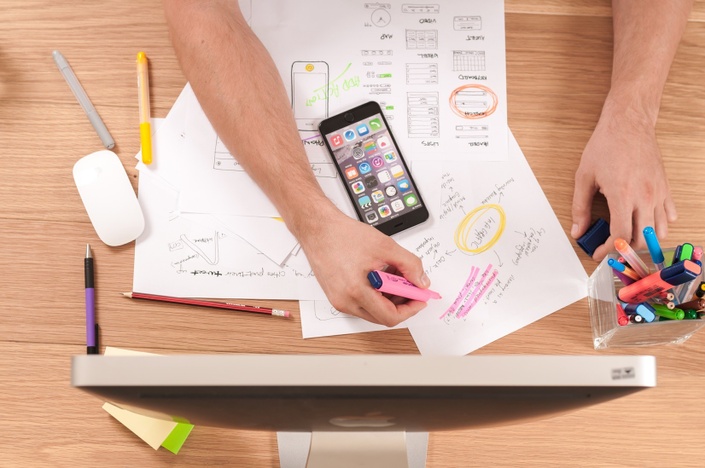 Find Fulfilling Work. Get Hired 3X Faster.
500+ People Have Used This Course to Secure Dream Jobs with the World's Top Startups, Artists, and Entrepreneurs. Try It for 30 Days, with a 100% Money Back Guarantee.
Let's be honest. Finding great work opportunities is really hard. You find yourself competing with hundreds of talented freelancers, for uninspiring gigs. All your pitches are getting ignored, and you feel so desperate you'll take any job.
If you're serious about getting hired by world-class clients on projects you'll love, then you'll need a better strategy.
Author CHARLIE HOEHN has a bullet-proof, six-step process to help you find amazing clients, create life-changing opportunities, stand out from the crowd, and get hired on the spot...
... With just one email.
But this course isn't for everybody...

This course is NOT for you if...
- You expect to get paid without having to demonstrate the value of your work

- You don't care about what you do for work, so long as it pays the bills
- You'd rather apply to a hundred jobs than create your own website
- You believe free work is for suckers
This course is for people who are 100% committed to building an exciting career.
It will give you a bulletproof formula for getting hired at amazing opportunities, which you can use for the rest of your life.
Take it from Stephen, who used the course to get SpaceX interested in hiring him -- even though he was still just a student at U.C. Berkeley:

When I say this method works, I mean it really works.
This course gives you everything you need to put your career on the fast track.
So... What are you waiting for?
Here's What You'll Get...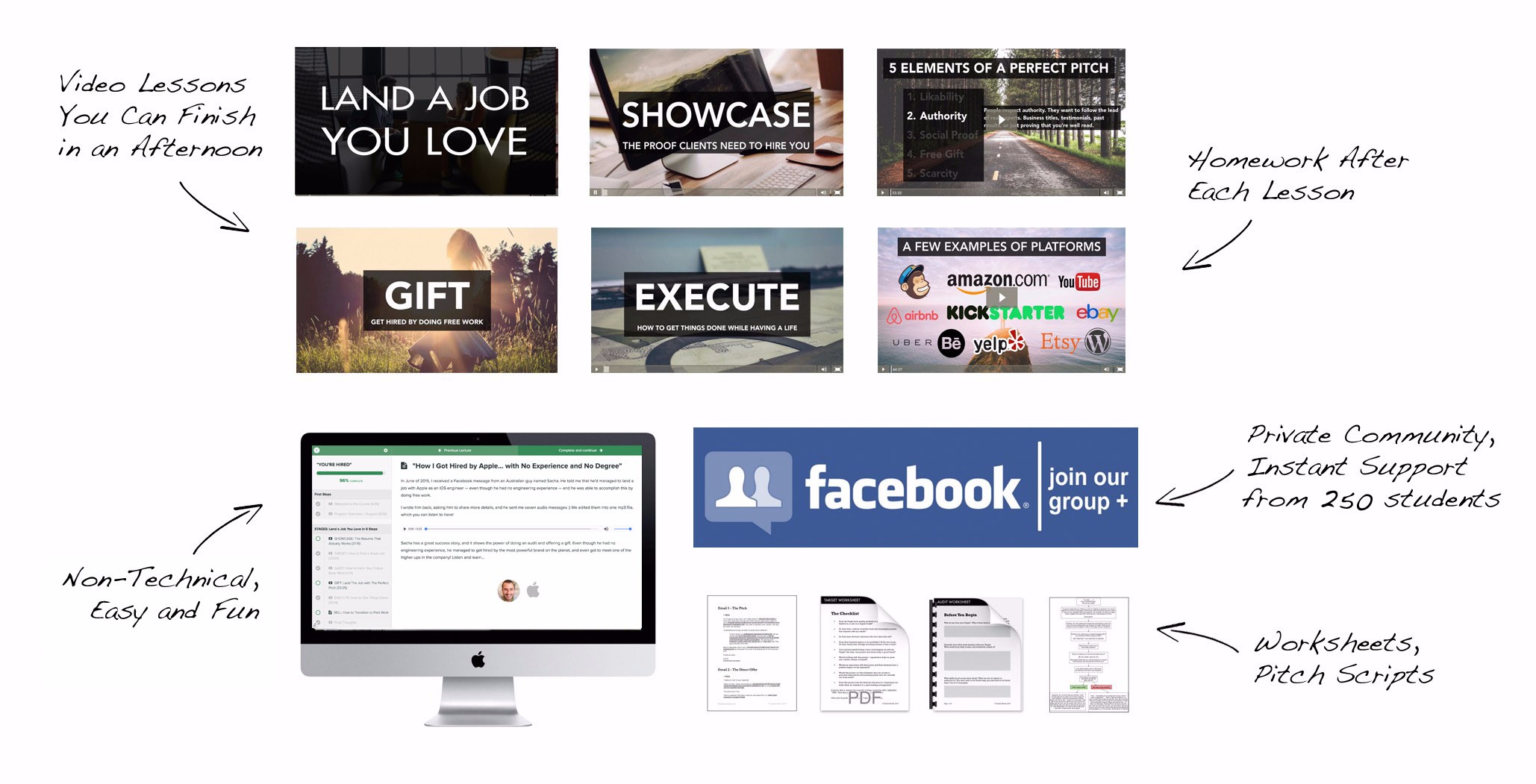 Land a Job You Love Program -- Six Video Lessons ($997 Value)
Lifetime Support in Private Facebook Group ($997 Value)
Battle-Tested Scripts ($497 Value)
That's nearly $2,500 in value, for everything you need to successfully land a job you love.
Your Instructor
Author of Recession Proof Graduate ("Just epic for young people starting out." -The Tim Ferriss Show) and Play It Away: A Workaholic's Cure for Anxiety ("Here's the cure to your stress!" -Tony Robbins). I've spoken at the Pentagon, TEDx (three times), and my work has been featured on NPR, Fast Company, Harvard Business, and many others. I live in Austin, with my wife and two dogs.
What makes this career course unique is Charlie's emphasis on wellness, friendship, and having fun. After recovering from severe burnout himself, Charlie has helped thousands of young people around the world overcome anxiety and depression, and puts a strong emphasis on mental health.
Each week of the course contains multiple live case studies where we answer hard questions, and overcome common sticking points.
You will also be joined by several dream job experts who have built careers that you wouldn't believe. In these interviews, they break down every step they took to create the life they'd always wished for:
Jefe Greenheart
Filmmaker, hypnotist. Worked with President Obama, Lady Gaga, Jim Carrey, Amy Poehler, Discovery Channel, National Geographic, and major music festivals.
Eli Wilhide
Salesman, speaker. Traveled the U.S. with Tony Robbins, did over 2400 seminars and spoke in front of over 250,000 people. Fitness model on billboard in Times Square.
Aly Tadros
Musician. Performed in over 800 shows across 40 states and 8 countries. Featured in USAToday, Paste, MTV Buzzworthy, Interview Magazine, The Village Voice, and Guitar World Magazine.
Dave Brunetto
Tour manager for David Bowie, Hall & Oates, Motley Crue, Britney Spears, Backstreet Boys, and many others.
Ben Casnocha
Serial entrepreneur. Co-authored The Startup of You with Reid Hoffman (founder of Linkedin). Book debuted at #1 on the New York Times bestseller list.
Megan Snedden
Professional storyteller. Traveled to over 20 countries capturing wild adventures and cultural tales for the BBC, National Geographic, Men's Journal, Fodor's Travel, Expedia, and Tourism Tasmania.
Eric James
Serial entrepreneur, photographer. Founder of the first website of magic tutorials. Producer of the best selling book Sex on the Moon.
Jason Connell
Professional speaker. Consulted senior government officials and 200+ higher education institutions across the world on how to create leaders who invest in their communities.
Christine Lai
Chief of Staff for Delivering Happiness by Zappos. Previously, operated basketball tournaments around the country with Nike's Tournament of Champions. Former Executive Strategy Director at Elite Meetings International.
Frequently Asked Questions
Who is this for?
This course is for those who want world-class jobs, with world-class clients. Whether you're a professional freelancer, a remote worker, or a recent graduate who wants to find a something job, this course will show you what you need in order to advance to the next level.
How is this course different from your book?
Recession Proof Graduate is a great resource, but the course has MUCH MORE:
- Step-by-step video tutorials and battle-tested email scripts, from beginning to end.
- Live support from our private Facebook community with 150+ students.
- In-depth interviews and case studies with Charlie's most successful students and friends.
- Bonus materials, such as PDF tutorial on how to quickly pay off your student loans.

Which skills will I need to learn to succeed?
Employers aren't looking for skills; they're looking for people who can reliably solve their problems. Until you make this shift, you will keep feeling like you don't have the "right stuff." But the truth is that you can get hired in a job you love much faster than you think.
Will my past experiences and skill set work with this course? In other words, will the things that I've done help me land a job I love?
In 95% of cases, absolutely. What the course teaches is not how to get "the right skills," but how to properly sell yourself as a solution to your target's problem. What's most important is proving you have a real understanding of their problems, then demonstrating that you can reliably solve them. If you can properly communicate to businesses and entrepreneurs that they have a BIG problem that needs to be solved, and you happen to know how to fix it -- then they don't care HOW you do it (which skills you use), they just care that it gets done and that it's valuable. And what's most valuable is helping them earn more money, helping their business grow. Every skill you have should be presented in that light.
How will I be able to compete with professional consultants and freelancers?
You need to sell to people who are able and willing to pay you a premium rate to deliver a result they want. What this course teaches you is effective communication, the kind of messaging that makes hiring you a no-brainer. Most consultants and freelancers don't do this well, which we've all seen numerous times on Linkedin, for example. Most of them lazily fire off mass emails in hopes of landing a single client. I focus on choosing one specific, high-quality "target" and approaching them with an enormously valuable offer -- so that it's practically impossible to ignore you.
How long will it take before I'm making money?
Results vary. Some students have landed paying jobs within a week of outreach. The speed at which you'll get paid is totally contingent on who you're targeting, the quality of your email pitch, and timing.
Let's talk Results. Here's what students say:
"Before this course, I think I applied to 50+ companies. I'd get interviews but no offers. The rejection sucked. Then I started implementing Charlie's strategy and was very quickly able to get meetings with some of my heroes. In terms of numbers, I've made thousands of dollars, but the connections I've been able to make are priceless. If you want to get out of the traditional cookie-cutter 9-5, create your own positions (over and over again) and work with people you admire, take this course. You won't regret it."

Sachit G.
"I finally took the plunge and reached out to someone whose work I admire. He <3'd the email. He responded by asking me to help him out with his next project, to which I said "HELL YES!" After a few weeks of working together, we're business partners on his next venture. And to sweeten the deal, he started to throw paid work my way from some of the other projects he's working on. All I have to say is THANK YOU. Without the kick in the ass your course gave me, I would still be aimless."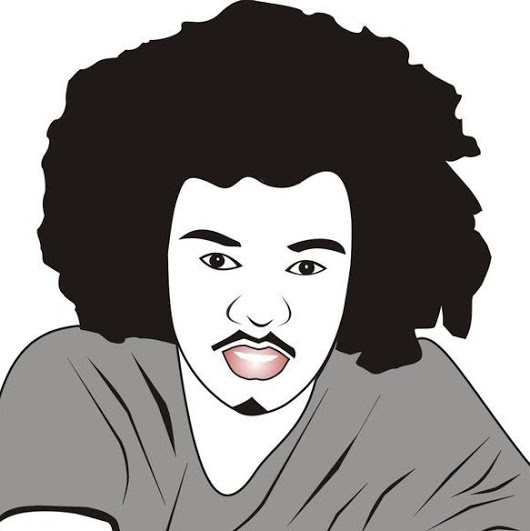 David H.
"The coaching was perfect because it got me out of my own head. The support from Charlie and the other students was certainly worth the money for accountability purposes, but the true power was in having others encouraging me to keep making progress and not to give up. As someone who has to quell the negative self-talk on a regular basis, this correspondence was worth its weight in gold for me."

Peter C.
"After learning these techniques, it felt like suddenly the entire world was open to me. Within a few days, I had offered to do free UX and app development work for someone for two weeks, and they ended up being my first client. Now I've made thousands of dollars and am planning on doing it full-time. It's truly a dream come true! Thank you!"

Brice M.
"Dude... thank you so much. I landed a guest research position with professor BJ Fogg at Stanford using your techniques. I implemented your strategy and just started seeing the world in a different way. Before, I hid behind my computer screen. Now, I focus much more on being friends and helping people. My quality of life has increased by roughly 1,000%."
Kevin R.
Here's what you'll get...

The Step-by-Step Guide for Finding a Job You'll Love, and Landing It
6 Video Lessons ($500 value)
11 Expert Interviews of Advanced Success Stories ($275 value)
9 Case Studies ($135 value)
2 Free Books ($30 value)
Plus, my gift to you...
Free digital copies of my books -- Recession Proof Graduate and Play It Away ($25 value), which will help you build a strong foundation so you can have greater success in your career.
How much does this course cost?
The better question is, "What is this course worth?" You spend 8-10 hours a day at a job, not including commute. That's a third of your life. You better enjoy it. How much is it worth to get paid what you want, for doing work you love, with people you admire? What would it be worth to you if you spent your life doing work that rejuvenated you? How much is it worth to have the confidence to successfully pitch great people and amazing companies... and command higher rates from them?
Once you've learned a better strategy for getting hired, you'll have that skill for life. You can take it with you anywhere -- whether you change industries, move around the world, or start a family. You will always know what to do and how to provide for your loved ones, even if the economy gets bad or the company you're working for goes out of business. For many students, the value of this course far exceeds the actual cost:


"Will this course work for me?"
This course is for ambitious people who want awesome jobs, AND are willing to put in the work to make it happen. This strategy has been tested on thousands of students over the last seven years. If you apply it, it will change your life. But it won't do anything for you if it just sits on your computer screen, with zero action taken. You have to DO THE WORK, otherwise you're wasting your time and money, and I'd hate to see that.
If you're ready to get hired in a job you love, here are your options:

Get started now!